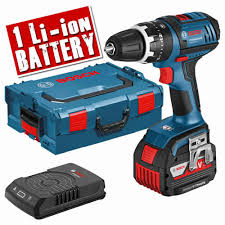 BOSCH GSB 18 V-LI 4W 18V 4.0AH LI-ION WIRELESS CHARGING COMBI DRILL L-BOXX KIT
€ 310.00 incl. tax*
Bosch GSB 18 V-LI 4W 18V Combi Drill with 4.0Ah Wireless Charging batteries and New Inlay Charging bay - 060186717M
A NEW HIGH QUALITY COMBI DRILL FROM BOSCH
This high quality combi drill from Bosch has an extremely compact design which is only 195mm long, and weighs only 1.9kg. Its powerful new gearbox design and high-performance motor gives this tool incredible power for its size,whilst an itergrated impact drilling function allows for drilling in masonry up to 13mm.
FEATURES AND BENEFITS:
Innovative CoolPack batteries ensure optimum heat dissipation and therefore increase lifetime by up to 100% (cf. Li-Ion batteries without CoolPack)
Bosch Electronic Cell Protection (ECP): protects the battery against overload, overheating and deep discharge
13-mm Auto-Lock drill chuck
Integrated LED light for illuminating the work area, even in dark places
Motor brake for precise work when driving rows of screws
Practical belt clip for conveniently hanging the tool on a belt or ladder
Ergonomically shaped handle with slim circumference and softgrip covering for low user fatigue
TECHNICAL SPECIFICATIONS:
Max. torque (hard/soft) - 67 / 28 Nm
No-load speed (1st gear / 2nd gear) - 0 – 500 / 1.700 rpm
Max. impact rate - 25.500 bpm
Chuck capacity, min./max. - 1,5 / 13 mm
Drill spindle thread - 1/2"
Battery voltage - 18 V
Battery capacity - 4,0 Ah
Weight incl. battery - 1.9 kg
Torque settings - 18+1
Drilling diameter:
Max. drilling diameter in wood - 35 mm
Max. drilling diameter in steel - 13 mm
Max. drilling diameter in masonry - 13 mm
Screw diameter:
Max. screw diameter - 8 mm
SUPPLIED WITH:
L-BOXX
1 x 4.0Ah Wireless charging battery
Dock Charger
Category Bosch
* Based on residence in Ireland. Tax rates for other countries will be calculated at the checkout. Price exclusive of tax: € 252.03.