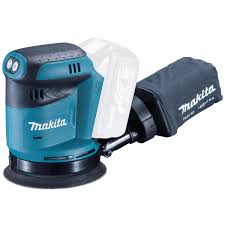 MAKITA DBO180Z 18V 125MM ORBITAL SANDER BODY ONLY
€ 198.99 incl. tax*
• Compact design with a short height and a lower centre of gravity fro easier handling and more manoeuvrbaility.
• Excellent performance with high orbital speed and a 2.8mm orbit diameter.
• Electronic push button switch: Start/Speed setting button, Independent stop button.
• High dust extraction rate: Dust is extracted through a 8 hole under pad and collected into the dust box.
• Dust nozzle can be set at 12 different angles every 30º from 0º to 360º.
• Pad brake.
• Connectable to Makita vacuum cleaners without adaptor.
Category Makita
* Based on residence in Ireland. Tax rates for other countries will be calculated at the checkout. Price exclusive of tax: € 161.78.