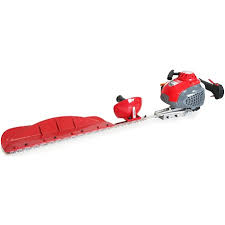 Mitox 700SX Premium Petrol Hedgetrimmer
€ 318.99 incl. tax*
Maintain your hedges like a professional with the powerful and ergonomically optimised Mitox 700SX.

It's fitted with a single-sided blade; the sort preferred by commercial landscapers as they allow for a longer reach without adding much extra weight.

The blade on this model measures an expansive 75cm, so the rapid coverage of large hedges is assured; and they're made from premium hardened-steel for impressive sharpness and superior durability.

Powering the Mitox 700SX Petrol Hedgetrimmer is a high-performance 1.14hp air-cooled two-stroke engine with a substantial 25.4cc cylinder-displacement; and which utilises Mitox's SmartPull recoil-ignition system for practically effort-free pull-starts.

A large-capacity 0.33-litre fuel-tank ensures top-up stops will be infrequent; while a cuttings deflector works to keep the work-area free of debris.

With its lightweight build (5.3kg); high-specification anti-vibration system; and optimised centre-of-gravity, the Mitox 700SX is hard to beat when it comes to comfort and ease-of-handling.
Category MITOX
* Based on residence in Ireland. Tax rates for other countries will be calculated at the checkout. Price exclusive of tax: € 259.34.